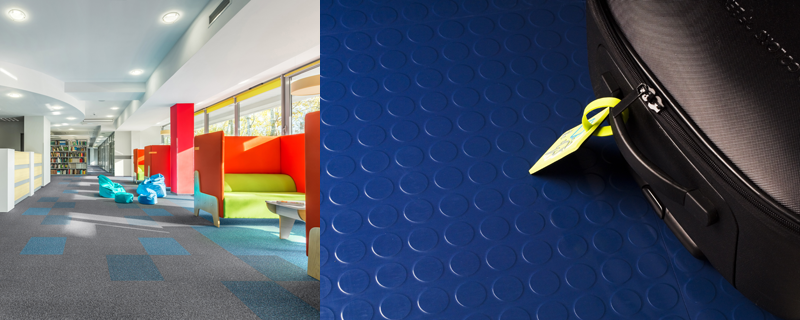 Do you remember what your educational facility looked like when you were there? Style may not have been at the top of the agenda and, if you were to revisit your old haunt, you may very likely be horrified at what was once regarded as satisfactory flooring for educational facilities.
With schools in session for 39 weeks of the year and on average 965 pupils per secondary school and 282 pupils per primary school, the flooring installed throughout the premises must be hardy enough to withstand large footfall and yet be easy to install. Plus, with the UK education sector covering a variety of buildings and settings from entrances, school halls, classrooms to corridors, the flooring must provide a practical solution to each setting without impacting on the academic calendar and budgets.
For more than 40 years, Carpet & Flooring have been supplying the flooring industry with a complete flooring package. Offering a choice of industry-leading brands, Carpet & Flooring offers everything you need to complete your projects in one convenient order and delivery and, for your convenience, have 10 Nationwide branches located throughout the UK. Here, we provide our top tips in specifying flooring in an education setting as well as considerations of how the design and flooring colourway can have an impact on learning:
Fibre-Bonded Carpets & Nylon Barrier Matting
With the UK weather being very changeable, quite often having four seasons in one day, the chances are that, when coming in from outside, pupils do not wipe their feet, thereby bringing in moisture and debris from outside.
Installing a heavy-duty fibre-bonded carpet or a tile and plank option in receptions and entranceways will capture any soil and debris walked in from outside, protecting the rest of your interior floor finishes, resulting in floor coverings that remain in better condition for longer. Aside from being durable, fibre-bonded carpets are available in a wide variety of colourways so that you can create an inviting space for pupils and staff.
Installing a nylon barrier matting with a scraper fibre effectively scrapes footwear to capture soil, moisture and dry debris when walking in from outside. This minimises the effects of soiling in other parts of the building and ensures the longevity of the flooring.
Carpet Tiles
Offering endless design opportunities and available at various price points, as well as being great for limited budgets, carpet tiles offer durability and sound reduction, great for helping to develop a quiet space for learning and teaching in classrooms and preventing noise  reverberating around the school when installed in hallways.
A huge benefit when it comes to installing carpet tiles is that the creative opportunities are endless! Available in a wide variety of designs and colours, carpet tiles can allow the installer to create a bespoke installation to suit any aesthetic. An accent colour can be incorporated into the floor design, giving a nod to colours associated with the establishment without being overbearing.
The CFS Europa Collection and CFS Illusion ranges are a popular choice when installing in educational facilities. With a wide array of colourways allowing endless design opportunities and the capability to withstand heavy traffic in corridors and classrooms.
Additionally, if a tile is damaged by a drink being spilt or paint dropped, it can be replaced individually, rather than re-laying the whole floor at unnecessary expense and effort.
Safety Flooring
With students studying a wide range of subjects from the arts and science to design and technology where movement around the classroom is necessary, safety becomes of paramount importance in preventing any slips where any debris and spillages on the floor may be commonplace.
Installing safety flooring in these areas with slip resistance properties, as well as being anti-bacterial, hard wearing, and easy to clean, puts the safety of students and staff first.
Luxury Vinyl Tile
With large amounts of footfall in educational buildings, Luxury Vinyl Tiles rise to the challenge of being both versatile and easy to install. Due to its hard-wearing qualities, LVT has become increasingly popular. Designed to have the appearance of real wood and stone, and other natural materials, LVT not only looks like the real thing, but feel likes it, creating a beautiful luxury look.
Additionally, it is easy to clean and has good slip resistance to prevent any slips and falls. It also offers noise reduction, minimising the sounds of heavy footfall and background noise.
Colour
As well as the choice of floorcovering, the consideration of how the colour choice of floor covering can impact on a pupil's or staff's psyche is also worthwhile considering.
In educational facilities, colour differentiation between sections of flooring can also help direct pupils and staff to important areas as well as allowing you to create a zonal separation to help pupils adapt their behaviour to each area that they are in. For example, installing two different flooring colourways to identify between work and play areas.
A neutral colour tone which is based around nature, for example, can conjure up relaxed feelings. In contrast, bright colourways can invoke a creative environment and a friendly atmosphere
Installer
It is of paramount importance that you use a quality installer when replacing the floor coverings within a school. Even when using a top-quality product, using the wrong installer can result in an inadequate and potentially unsafe installation. We suggest using a recommended installer with experience in educational establishment installation to ensure your project is completed on time and within budget.
To find out more about Carpet & Flooring's extensive product portfolio or to request a free sample, contact us by the following methods:
W: www.carpetandflooring.co.uk
E: customer.services@carpetandflooring.co.uk
T: 01527 511860
Live Chat with Customer Services:
Visit the Carpet & Flooring website and click on the orange icon at the bottom right of any webpage to chat with a member of our Customer Services team.

https://schoolbuilding.org.uk/wp-content/uploads/2021/06/CT.png
320
800
Lyn
https://schoolbuilding.org.uk/wp-content/uploads/2019/06/Screenshot-2019-06-10-at-11.25.53.png
Lyn
2021-06-24 13:14:12
2021-06-24 13:14:12
Selecting the ideal floor covering for your educational facility