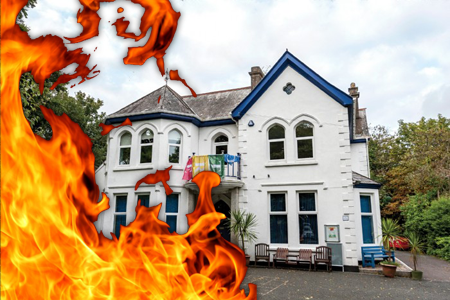 Roselyon School in Par Cornwall now destroyed by fire
A Cornish school has become the latest victim of arson attacks on school buildings. Although no longer used for educational purposes the building served the community as a holding space for recycled furniture and household equipment, which would ultimately benefit less well off members.
The fire was reported at 11 pm on Friday the 27th of December and residents were reported as using every means at their disposal to contain the fire and keep it from reaching nearby residential properties. One resident said: "There were residents using buckets of water, throwing it over sheds and the hedge to keep it damped down. One young man with a garden hose was trying to keep down and away from houses and sheds until the firemen turned up."
Error, group does not exist! Check your syntax! (ID: 2)
Five fire crews backed up by support vehicles Crews from Fowey, St Austell, Lostwithiel and St Dennis along with a whole-time officer and an incident command unit from Launceston and operational support vehicle from St Austell were at the scene until the early hours finally bringing the incident under control at around 2 am.
In 2010 it was reported that in the previous two years there had been over 3000 incidents of arson attacks on school buildings, at the time Michael Gove who was then the shadow schools secretary was quoted as saying "The large number of arson attacks, on top of all the other problems in schools, is deeply worrying."
The current rate for deliberately started school fires is suggested to be 2700 per year.
Zurich Municipal who insure 50% of the UK school buildings carried out an inspection spanning two years and found that 67% of English Schools were rated as having poor fire protection provision, only 5% were classed as excellent, compared to a much higher 29% excellent rating for Scottish Schools.
This difference may be attributed to the fact that in Scotland all new schools and those undergoing major refurbishment have a legal directive to fit sprinklers. In England it is advised but no mandatory. Fewer that one in six new schools in England have been built with a sprinkler system installed.
The Zurich inspections included evaluating the overall combustibility of the construction as well as fire detection systems and smoking controls. As a result of the findings Zurich wrote to the Government in September 19 calling for urgent action to address the problem.
Tilden Watson, the head of education at Zurich, said: "A change in government legislation to make sprinklers in schools mandatory not only protects children while they are in school, it often contains the fire to the room it starts in when it happens out of school hours.
"Not only does this minimise the level of damage caused, it also negates the aftermath, which often leads to months or even years of disruption for children's education while the school is repaired."
Andy Dark, the assistant general secretary of the Fire Brigades Union, said: "We've made it clear in the past that newly built schools and other high-risk buildings should have sprinkler systems and we fully support Zurich Municipal's call on the government to change the law to make them mandatory.
"Ideally, sprinklers would be fitted in all schools of whatever age and size. Sprinklers can assist in limiting the spread of fire, the damage it will cause and giving occupants additional time to escape, as well as reducing the risks faced by fire-fighters attending the incident."
https://schoolbuilding.org.uk/wp-content/uploads/2019/12/SB-NEWS-30.12.19.png
300
450
Lyn
https://schoolbuilding.org.uk/wp-content/uploads/2019/06/Screenshot-2019-06-10-at-11.25.53.png
Lyn
2019-12-30 09:25:30
2019-12-30 09:25:30
Increasing incidence of arson attacks on school buildings