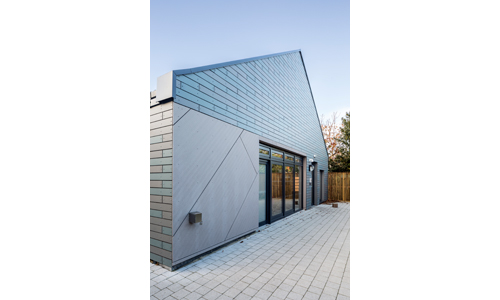 EQUITONE [linea] and [natura] fibre cement facade materials have helped provide a tactile exterior to a state-of-the-art nursery in Edinburgh.
The Corstorphine Nursery, which provides pre-school education for more than 50 pupils, has been given a crisp aesthetic by the EQUITONE facade materials to create a modern, free flowing facility that maximises the space available.
The new build facility was designed by Glasgow-based architects Anderson Bell Christie and has replaced a prefabricated setting on the site of an existing primary school.
Jonathan McQuillan, of Anderson Bell Christie, said: "We chose EQUITONE materials for this project as we wanted something that provided a lot of texture at the right height for pre-school children. It was important for the overall project that we created something that was tactile and interactive for the pupils. The scale and rhythm of the ridges on the cladding is particularly pleasant for children to run their hands along.
"The material allowed us to articulate the building using texture. This meant that we could create surfaces that generated interest using tactility on a child scale, but that were low on visual noise."
EQUITONE [linea] is a through-coloured facade material that displays a linear surface which highlights the raw inner texture of the core fibre cement material, guaranteeing crisp, monolithic details.
EQUITONE [natura] offers a tactile smooth surface which allows the textures of the fibre cement to show through the facade.
As well as the aesthetic qualities, Anderson Bell Christie chose EQUITONE because of its durability and A2-s1, d0 fire classification.
Jonathan added: "We have used EQUITONE materials for quite a few projects over the years – the material is really easy to work with. It can be cut down into different sizes and formats, giving us flexibility in our design. It's low maintenance and has a minimum life expectancy of at least 50 years, which will allow the nursery to minimise ongoing operational costs."
All EQUITONE materials are available in a range of colours, finishes and fixing options, giving full creative scope.
For more information on EQUITONE facade materials, visit www.equitone.com/en-gb
https://schoolbuilding.org.uk/wp-content/uploads/2020/02/Corstorphine-Nursery-1-WEB.jpg
300
500
Lyn
https://schoolbuilding.org.uk/wp-content/uploads/2019/06/Screenshot-2019-06-10-at-11.25.53.png
Lyn
2020-02-24 13:40:03
2020-02-24 13:40:03
EQUITONE GIVES STRIKING AESTHETIC TO EDINBURGH NURSERY