Bertha Park High School is the first entirely new school to be built in Scotland in 25 years
#schoolbuilding #architects #collaborativeenvironment #construction #sustainability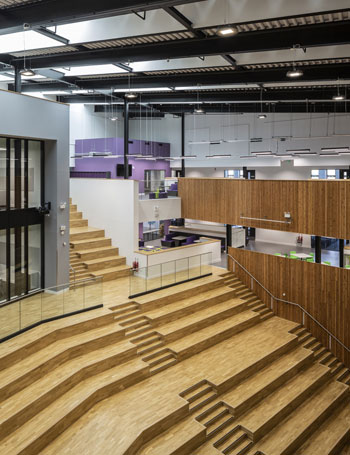 Commissioned by Perth & Kinross Council and delivered with development partner East Central Hub, the school is one of only 17 in the world to form part of the Microsoft Flagship initiative.
Specialising in delivering learning digitally, the school has been designed with a collaborative environment in mind, with spaces that could also be used by the community of Bertha Park, an expanding residential part of Perth.
As a result, NORR has designed a compact and efficiently sustainable form containing internal spaces which are all entirely naturally lit. The brick massing is very simple, with one long sloping roof creating a connection between the north and south axis on which Bertha Park High School sits.
A taller and highly glazed frontage sits to the north of the scheme and creates a sense of transparency between the learning within and the building's wider community.
By contrast, the lower southern end of the building offers access to the school's main social area. The school is also connected to the main street to the north by a public plaza, further integrating the building into its context.
Architect's view

The project was particularly interesting in that it was an entirely new-build school which did not replace an existing one. Unusually, there were no pupils to engage with, no school community to consult with, and no staff to talk to – at least initially. We did, however, have an excellent aspirational client in Perth & Kinross Council, supplemented by the newly appointed headteacher Stuart Clyde. Their high-quality aspirations, combined with those of the wider team, led to a genuinely collaborative approach to the project.

We had recently completed West Calder High School, a similarly radically briefed project, and this gave a good basis from which to proceed with the brief for Bertha Park High School. The collective aim was to create a radical, interesting and innovative series of learning spaces with collaboration and technology at their core, all contained within a compact, joyful environment where corridors are eroded, spaces are visually connected and all are imbued with natural light throughout. The containment of all of this richness within a simple yet dynamic exterior allowed us to create spaces of varying scale and character which appear to be genuinely enjoyed by the young people who use them. On a post-completion visit, one group of pupils delightfully gave the school a score of 11 out of 10. That, for us, is the ultimate measure of success.

Kevin Cooper, director, NORR
Source: Architects Journal
https://schoolbuilding.org.uk/wp-content/uploads/2020/08/SB-NEWS-14.08.jpg
300
791
Lyn
https://schoolbuilding.org.uk/wp-content/uploads/2019/06/Screenshot-2019-06-10-at-11.25.53.png
Lyn
2020-08-13 16:38:39
2020-08-13 16:38:39
FIRST NEW SCHOOL IN SCOTLAND IN 25 YEARS