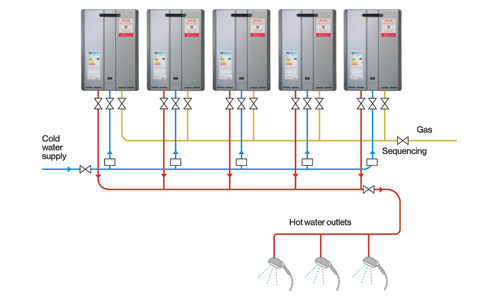 Rinnai is offering all schools FREE energy audits on their hot water systems. The audits are aimed at maximising hot water delivery efficiencies which can result fuel cost savings, alone, of up to 30% on current energy price. The hot water is heated only when it is used – turn the tap off and the energy costs stop immediately.
There are also capital expenditure and carbon savings to be included in the final Whole of Life equation.
The audit, in close co-operation with each school, measures all data concerning hot water use and presents a full and detailed report.
This is all free of any charge.
For the owners of one site a manager commented, "We had an old stored water heating cylinder system, it become completely impractical, inefficient and needlessly expensive to run. "Clearly we needed to change to one that could cater for demand fluctuations – for example, showers running after PE, while the kitchens were also working – without running up huge energy bills. The solution wasn't hard to find with Rinnai continuous flow hot water delivery.
"We presented the project to Rinnai's Technical team who came up with the design, configured the sizes of unit required and delivered the system complete and to a very tight timescale – this was key as the existing water heater had developed a leak and I was extremely mindful that the site had to remain operational.
"The Rinnai system has resulted in an energy reduction and gas saving due to higher efficiencies and because we are no longer maintaining large amounts of stored hot water. It's not rocket science to work that out!" "In terms of gas usage running costs compared to the old wasteful storage system, our bills have virtually been halved since the Rinnai system went live five months ago, which is absolutely tremendous."
Rinnai is the world's leading manufacturer of continuous flow hot water systems – it makes and sells 2 million units each year. The range of units can be manifolded to supply, limitless hot water to a school site of any size. This means fast, efficient, temperature-controlled water on demand at the point of delivery – kitchens, showers, accommodation blocks, bathrooms, washrooms. It also means far less space spent on plant rooms and no or little maintenance as all units are proven to be robust with a long, long working life.
Rinnai is the world-leader at the forefront of creating unit cost advantages for end-users. All units and systems are competitively priced, the units offer all technological advances and innovations, all at a similar cost to lower specification competitor models.
Contact the company direct by telephone or email engineer@rinnaiuk.com for your FREE audit on hot water usage on your site
VISIT www.rinnaiuk.com FOR MORE INFORMATION ON COST SAVING & LIMITLESS HOT WATER
https://schoolbuilding.org.uk/wp-content/uploads/2020/08/rinnai-web.jpg
300
500
Lyn
https://schoolbuilding.org.uk/wp-content/uploads/2019/06/Screenshot-2019-06-10-at-11.25.53.png
Lyn
2020-08-21 10:06:49
2020-08-21 11:36:24
FREE AUDIT ON ALL ENERGY COSTS FOR HOT WATER DELIVERY