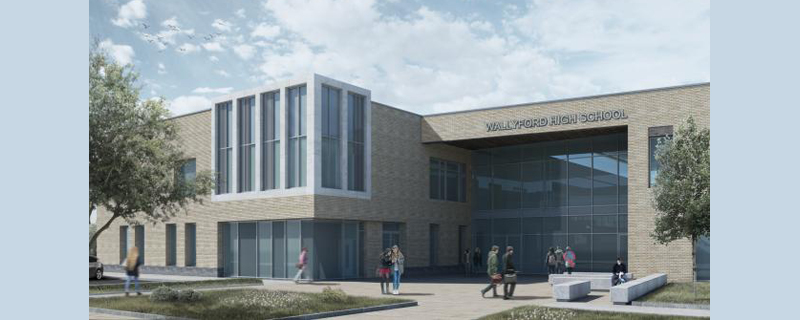 A PLANNING application has been submitted for a £46 million new high school at Wallyford as major new housebuilding in the area continues.
The Wallyford Learning Campus would be constructed on farmland west of Masons Way and is expected to take about two years to build.
A playground, sports pitches, landscaping, fencing, lighting, CCTV and an external storage enclosure are included in the plan, which has been lodged by East Lothian Council for the site next to Inchview Crescent, north of the new Wallyford Primary School.
About 2,050 new homes are set to be built in the Wallyford area.
In April 2016, approval was given by the council to consult on the proposal to establish a new, additional secondary school in Wallyford to serve the Musselburgh area.
A report on the public consultation revealed that of the 423 questionnaire responses received, a clear majority supported the proposal.
At that time, it was stated that the new school would accommodate pupils from the catchment areas of Wallyford Primary School and Pinkie St Peter's Primary School in Musselburgh.
A planning statement said the design of the learning campus would include a new community centre to replace the current set-up at Wallyford.

A 92-space car park is proposed.
The new building would provide a school of excellence for pupils with severe and complex needs, an adult day centre and tots and teens facilities "to ensure educational facilities are enhanced for a wide variety of users through construction of the new facility".
It would provide "brand, new, modern facilities" accessible to all while offering access to other facilities in the building such as a learning resource centre, drama spaces, dining facilities and sports halls and fitness suites.
Also announced last week was Scottish Government funding for the new high school and proposed new Whitecraig Primary School as part of a £33 billion investment in Scotland's future.
The Infrastructure Investment Plan (IIP) and Capital Spending Review, both published last Thursday, confirm a five-year plan of investment to support 45,000 jobs and build healthcare facilities, schools and local facilities across Scotland.
The Capital Spending Review sets out the detailed capital budget allocations for each of the five financial years from 2021-22.
Learning estate projects including the secondary school at Wallyford and Whitecraig Primary School are included in the budget plan.
Councillor Shamin Akhtar, cabinet spokesperson for education and children's services, said: "East Lothian is one of the fastest growing council areas in Scotland.
"The new secondary school at Wallyford, which will provide additional provision for the Musselburgh area and include community learning facilities, and a new primary school at Whitecraig, are important projects, supporting our vision for dynamic and thriving local communities.
"Our approach to new and improved schools is linked to the delivery of new homes, including affordable housing and other infrastructure, helping to create the increasingly prosperous and sustainable East Lothian we all want to see.
"These projects build on our plans to deliver new build, expanded and modernising programmes at education facilities across the county."
Ward councillor Colin McGinn said: "I am delighted to see this project come forward to this stage.
"When you see the magnificent Wallyford Primary School standing a few yards away, I am heartened that the council are again engaging with the same partners to deliver this new facility.
"I am convinced it will become a space that will benefit the whole community in the years to come and I am so pleased for the constituents in my ward who will gain another fantastic space for children, young people and families in Wallyford."
Fellow ward councillor Kenny McLeod welcomed the funding for the new schools, saying: "I welcome any investment and it is great for my ward."
Musselburgh councillor John Williamson said: "I am pleased that progress is being made with the new school, which will hopefully be completed within the two-year timescale.
"The community facilities included in the new campus will provide a much-needed and welcome resource for the local community.
"The Scottish Government funding for the new school is also welcomed."
Councillor Katie Mackie, Musselburgh, said she was "delighted", adding: As the population increases, it's important we have the appropriate infrastructure to support new homes. A new high school is a very important part of the plan."
Musselburgh MSP Colin Beattie added: "I am delighted the Scottish Government has provided a cash boost for vital infrastructure projects such as the investment in Wallyford high school and Whitecraig Primary School."
A spokesman for East Lothian Council confirmed progress was being made, with hopes the new school in Wallyford could open in 2023.

He said: "The council was successful in its 2019 bid for Government funding to support two of the new schools in our capital plan. Both schools are part of the Scottish Government's learning estate investment programme, which was announced in September 2019.

"The new Wallyford Learning Campus is at an advanced design stage, with some works starting over the summer and, subject to normal process and approvals, has a target opening date for pupils of August 2023.

"The council welcomes the funding package and, as part of this programme, the council will be funding the capital cost of the school up front, including the use of financial contributions from new development, and will then receive 50 per cent of funding from the Scottish Government over a period of 25 years once the school is opened.

"The new Whitecraig Primary School is scheduled for opening in April 2024 and design works are now progressing.

"Fifty per cent of the replacement cost of the existing school will also come from the Scottish Government's learning estate investment programme, paid once the school is opened.

"The council will fund the capital costs of the new school up front, including the use of financial contributions due from development planned in Whitecraig."
Source: East Lothian Courier
https://schoolbuilding.org.uk/wp-content/uploads/2021/02/SB-1-15.02.21.jpg
320
800
Lyn
https://schoolbuilding.org.uk/wp-content/uploads/2019/06/Screenshot-2019-06-10-at-11.25.53.png
Lyn
2021-02-13 15:51:40
2021-02-13 15:51:40
Plans for a new £46million school