Venesta use their vast experience in commercial washroom design and manufacture to help you specify hygienic, easy to maintain, safe and accessible washroom facilities for students of all ages.
Good hygiene practices depend on first-class facilities. They are amongst the most in demand, high-traffic areas of a school. School washrooms require enhanced hygiene schedules, robust cubicles and ergonomic design.
So for any education establishments now considering updating their outdated cubicles and antiquated plumbing systems with bright and breezy, easy to maintain solutions, here are a few things to consider…
Age groups
From nurseries to university students, it's important to provide appropriate facilities for all the age ranges.
Small children can find it intimidating to enter an adult size cubicle and require low level partitions and doors for adult supervision. Semi-recessed vanity units allow younger children to get up close to the taps while solid surface wash troughs are proving to be a popular and space saving option for little ones.
Older children and young adults need to feel at ease and the toilet cubicles themselves need to be robust enough to withstand heavy usage. Metal framed cubicles such as Venesta's Centurion offer ultimate rigidity, while the Full Height option within this range also provides complete privacy for all users.
Don't forget, you might also have to consider out-of-school community groups that use the facilities.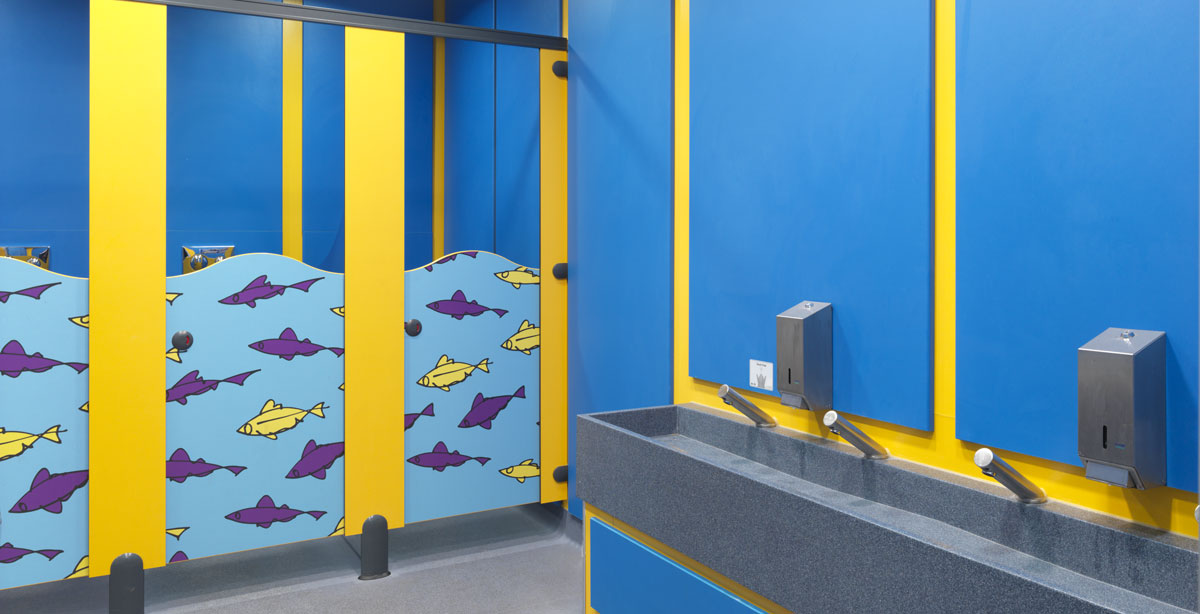 Safety features
Anti-finger trap hinges, emergency release indicator bolts and magnetic catches instead of locks help keep students safe in school washrooms. Taking light and ventilation into account, open-plan design and full height cubicles with partitions, taken to the floor with only a 10mm clearance, can also help you minimise bullying and anti-social behaviour.
Aesthetics
Young children have very different stimuli than secondary school students, so you might want to consider alternative tones and colour palettes. It's all about creating a space where students of all ages feel comfortable. And matching to school colours is now possible with the huge choice of laminate, solid surface, screen print and ColourCoat washroom finishes.
Gender
Schools have long been encouraged to provide unisex toilets. Unisex and shared washrooms help with transgender equality and with more students using the same facilities, seclusion is less likely. Placing the basins or wash troughs in the centre of unisex washrooms, perhaps having male and female cubicles on either side, ensures there are enough toilets for all genders.
Materials and maintenance
Choice of materials can make a big difference to budget, durability and ease of cleaning. Melamine Faced Chipboard (MFC) is a cost effective, hard wearing solution for dry environments and the low use areas you'd typically find in early years settings. High Pressure Laminate (HPL) is more robust for older children, while Solid Grade Laminate (SGL) is totally waterproof, impact, heat and scratch-resistant and ideal for secondary school and university toilets and shower cubicles.The focus on hygiene, in all aspects of life, is set to remain. Touchless technology is nothing new, but is not becoming the norm. Research shows that within an hour of normal use, there are on average over 500,000 bacterial cells per square inch on public washroom surfaces. Now more than ever, rethinking how we can keep our students safe from infection couldn't be more front of mind.Pre-plumbed systems, such as Venesta's Vepps, are proving more and more popular for school washrooms, where sanitaryware such as WCs, urinals and basins are factory-fitted to panels with plumbing concealed behind. The enclosed plumbing and hinged panels, with a duct lock option, make duct spaces secure and inaccessible to students. This not only keeps staff and students safe, but also provides easy ongoing maintenance.
Expert advice, service and guarantees
The options seem endless, and regulations a minefield, but it pays to speak to a specialist. Venesta's friendly, helpful team can share the benefit of their experience and help you avoid costly mistakes. They will help you find the optimum solution and will continue to support you right through to their after sales service and leave you with a 10-year product guarantee.
To discuss your current or future education washroom projects, please call the team on 01474 353333 or email marketing@venesta.co.uk
https://schoolbuilding.org.uk/wp-content/uploads/2022/04/venesta1.jpg
320
800
Lyn
https://schoolbuilding.org.uk/wp-content/uploads/2019/06/Screenshot-2019-06-10-at-11.25.53.png
Lyn
2022-04-20 05:56:32
2022-04-20 05:56:32
Top tips for designing school washrooms