The Dudley House scheme for Westminster City Council includes 197 affordable homes, a permanent home for Marylebone Boys' Secondary School, a church and retail unit
Sited on a 4,000m² footprint, Dudley House is Westminster's largest-ever design-and-build contract scheme and intended as a flagship project in the borough's inclusive 'City for All' programme – creating affordable homes and community infrastructure within a highly constrained and commercial urban location.
Error, group does not exist! Check your syntax! (ID: 6)
Child Graddon Lewis's design approach has been to clearly express the split between all the main uses, with each having an identifiable entrance facing on to separate streets and with separate circulation Cores.
The residential element, wheelchair accessible throughout, is 22 storeys high and clad in terracotta. The homes are a mix of studio,one-bed and two-bed units, all dual-aspect and offered at intermediate rent. The dwellings created contribute to the council's programme of house-building, which aims to deliver 22,000 new homes by 2040.
The nine-storey secondary school, the tallest in the UK, accommodates Marylebone Boys' School, a new school which spent its first four years in several temporary locations. Inside, the school has a central atria and the design includes a flexible hall space with retractable seating at basement level. Working with the limitations in space, the design also incorporates a netted play area at roof level.
The church, meanwhile, provides a new home for the local Central Pentecostal Church, which had previously operated in a dilapidated, poorly converted terrace house.
The building uses a central energy centre based upon a Combined Heat & Power system, which reduces the carbon emissions of the building by 40 per cent. On-site renewable energy is generated by rooftop photovoltaics.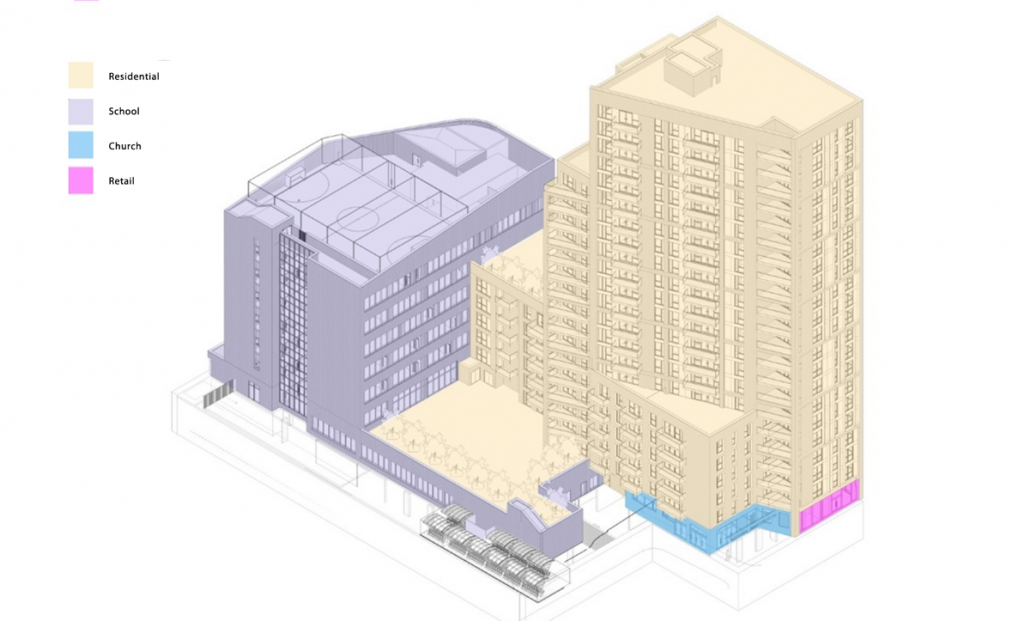 Architect's view

The design approach was to place a vertical split between all main uses. This not only inspires an identity for the residents, pupils and school staff, church congregation and retail business, but allows for more flexibility within the design process while maximising the available footprint of the site. For example, the problem with placing housing above the school – which would have been a viable design solution – is that the layout of the school is inevitably constrained by the structural configuration of the housing above. Also, having playground amenity space between floors means they're not strictly open-air spaces.

Overall, we believe Dudley House provides a development that will foster a sense of community, completing one of the missing pieces of the Paddington Basin masterplan jigsaw. The vibrant mix of uses will ensure that this stretch of Paddington is much more than just a place where people work.

James Felstead, director, Child Graddon Lewis
Source: Architects Journal
https://schoolbuilding.org.uk/wp-content/uploads/2020/03/SB-NEWS-02.03.20-3.png
300
500
Lyn
https://schoolbuilding.org.uk/wp-content/uploads/2019/06/Screenshot-2019-06-10-at-11.25.53.png
Lyn
2020-03-02 11:40:40
2020-03-02 11:40:40
BRITAIN'S TALLEST SCHOOL