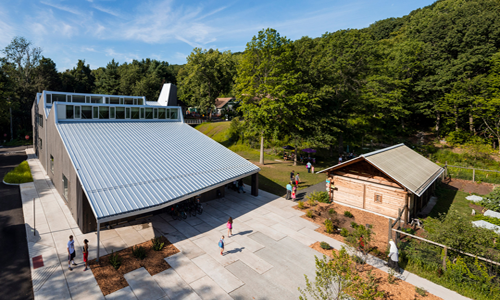 Outdoor classrooms and active farmlands surround the extension to this ecological high school in Connecticut, which Gray Organschi built with cross-laminated timber to demonstrate sustainable design practices.
Common Ground High School is a charter school in New Haven with a curriculum focused on the environment. It was founded in 1997 and is one of the first schools in the US to offer a high school programme dedicated to sustainability and organic farming.
Its campus sits near West Rock Ridge State Park, on a verdant site near Yale University. The school tapped local architecture firm Gray Organschi to create an addition to house various activities, such as a new gymnasium, laboratories, communal areas and classrooms.
"The project brief challenged the design team to weave the new building and its exterior spaces into the fabric of farm buildings, agricultural fields, upland forests, and wetland habitat that lie at the city's edge and serve as the school's working landscape and outdoor classroom," said a statement from Gray Organschi.
The 14,760-square-foot (1,371-square-metre) building is elevated above the ground and features wood-clad walls that form an irregularly shaped rooftop. The extension doubles the school's footprint.
The project is one of the first buildings in the country to use cross-laminated timber (CLT) –  an engineered wood consisting of laminated timber sections – for its main structure, according to the architects.
Consisting of layers of timber sections, the material has grown in popularity in recent years outside of the US, with many commending its lighter carbon footprint in comparison to concrete and steel.
Gray Organschi Architects chose the structure for the school as opportunity to showcase ways that sustainable features in the design that would be visible to students. "A primary objective was a pedagogical one," the firm said.
These walls, which were made of Black Spruce, support heavy wooden rafters that were similarly fabricated to achieve long spans with less raw material. "The new building at Common Ground exploits the structural capacities and ecological benefits of wood fibre," the firm said.
Natural light is let into the school thanks to its sloped roofline and clerestory windows. Other more sustainable features include rainwater treatment, passive ventilation, and on-site energy production via geothermal wells.
The addition is located downhill from the original school building, and accessed via a wooden bridge that leads to the upper level. Meeting rooms, classrooms and labs are organised around a central atrium. A monumental staircase leads down to ground level.
On this floor, a gymnasium and locker rooms provide social spaces for the students and the after-hours programming offered by the school. A garage door allows this multi-purpose space to open to the exterior in good weather.
with the building's mechanical equipment and other fixtures. This contrasts the exterior treatment, where darker wooden boards made of Port Orford Cedar wrap the building.
Based in New Haven, Gray Organschi Architects is led by Lisa Gray and Alan Organschi.
Source: Dezeen
https://schoolbuilding.org.uk/wp-content/uploads/2019/09/CONNECTICUT1.png
300
500
Lyn
https://schoolbuilding.org.uk/wp-content/uploads/2019/06/Screenshot-2019-06-10-at-11.25.53.png
Lyn
2019-09-03 13:01:19
2019-09-03 13:07:19
ECOLOGICAL SCHOOL IN CONNECTICUT, USA - BUILT WITH CROSS LAMINATED TIMBER