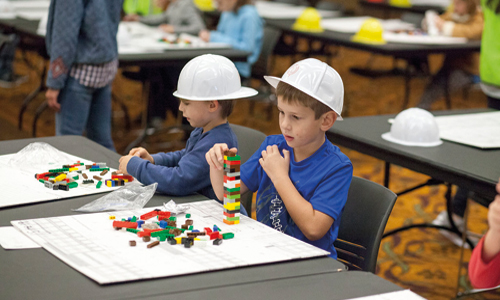 For a while now, the government have been making their intentions known, encouraging offsite over onsite where possible when it comes to public sector projects. Why is offsite so crucial for the educational building sector? School Building Magazine Editor Joe Bradbury discusses:
The current state of affairs
There are 32,113 schools and 142 universities throughout Britain today. Whilst this might sound like a lot, consider the fact that overall pupil numbers are also expected to increase by 654,000 to around 8.1m by 2026. In secondary schools alone, the overall population is projected to reach around 3.3m in 2026, a 19.1% increase of around 534,000 more pupils.
Parents are already battling for placements in schools for their kids, with many having to compromise on where they ultimately send their child for education simply because there isn't space in their local school.
Error, group does not exist! Check your syntax! (ID: 2)
What's more, alarming studies indicate that over 65% of these buildings are considered "not fit for purpose" by their head teachers and deans, who cite leaks, asbestos, faulty heating and damp as common problems.
Experts suggest that in order to keep up with this rapidly increasing demand for school placements, we needed to have been building 2,000 new schools each year between 2016 and 2020. This hasn't been happening and with time pressing on, it's clear to see we need a solution fast.
Speed of delivery
Fully kitted out and ultra-efficient offsite buildings can be completed in a matter of weeks, with minimal onsite disturbance. This is perfect in the school environment, due to the fact that work can be undertaken between term time, minimising disruption for pupils and teachers alike.
Traditionally, when the time comes to replace a school building, we have transformed the learning environment into a building site for months (sometimes even years) at a time, forcing teachers to educate from temporary, leaky and cold structures. This is unfair on the pupils attending the school during this period, it isn't conducive to learning and is shown to adversely affect their attainment levels come exam time. Put simply, it creates a disadvantage for them.
Offsite construction, however, is far less energy intensive than traditional building methods, meaning it is better for the environment; surely a lesson worth teaching to the next generation!
The carbon footprint left by the many construction vehicles and machinery on the site of a traditional construction project alone is considerably larger than that of modular construction. The fewer vehicles involved coupled with the reduced time that they spend on site results in less greenhouse gases being released into our environment… as well as less disruption.
Arguably one of the greatest benefits of modular construction is the ability to design diverse buildings in a more efficient manner, allowing them to be used as multi-functional spaces. For example, it is perfectly possible to combine a new school with a community centre, library or any other public building for that matter. This means that offsite construction can actually help public sector organisations and local authorities enrich the lives of the people that make up their communities.
In summary
Modular construction can help us breathe new life into our country's educational buildings throughout the country and create enthusing learning spaces for the influx of new students predicted to enter into education over the coming years. 
The success stories are prolific; the healthcare, policing, defence, housing and education sectors are all benefitting greatly from embracing offsite. 
Offsite construction ticks a multitude of boxes, offering a quick and cost-effective way to deliver the fit-for-purpose schools sorely needed throughout the UK. It isn't just an option to be considered from a financial front, it must play a crucial role in tackling the school places challenge if we are to make any meaningful improvements in our society. It's vitally important that the benefits of offsite are acknowledged and embraced by government and industry. It's about more than money. Let's do the right thing for our young people.
https://schoolbuilding.org.uk/wp-content/uploads/2019/10/SINGLE-OFFSITE-SB-WEB.jpg
300
500
Lyn
https://schoolbuilding.org.uk/wp-content/uploads/2019/06/Screenshot-2019-06-10-at-11.25.53.png
Lyn
2019-10-10 14:43:57
2019-10-10 14:44:35
Offsite matters in education