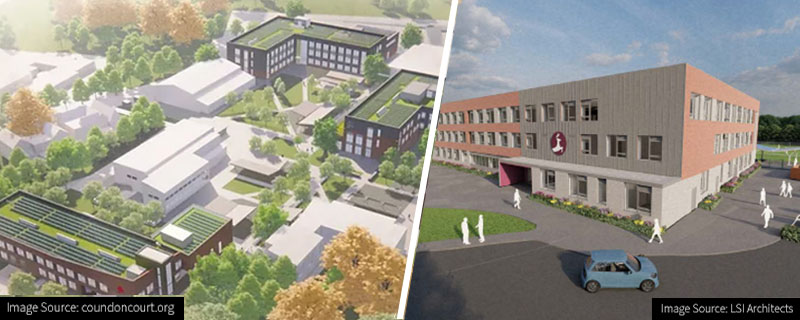 The healthy level of construction work being let under the government's Schools Rebuilding Programme is creating growing opportunities for new contracts across the country.
More capacity is needed in the sector to accommodate a 15% rise in secondary school pupil numbers which the Department of Education is expecting by 2027. Under the Schools Rebuilding Programme, the government has committed to rebuilding 500 schools over the next decade.
After the first 100 schools under the programme were announced last year, the government confirmed last month that it expects to 'prioritise' up to 300 schools in 2022 and 2023.
Meanwhile, the Chancellor's recent spring statement in March showed the education department capital budget is set to increase from £5.2 billion in 2021/22 to £6.3 billion in 2022/23 and to £7 billion in the following year.
Major contractors such as Wates, Wilmott Dixon and Kier Group are benefitting from a healthy workload in the education sector. Amongst its recent contract wins, Kier Group recently highlighted its appointment to the £7 billion Department of Education 2021 Construction Framework.
Pledges on schools
But the signs are that the government's pledges on schools are translating into some significant new projects for contractors of all sizes across the industry, particularly in the Midlands and the North West.
In April alone, Glenigan data shows work started on numerous new schemes under the Schools Rebuilding Programme. These included a £22.9 million project at Hartshill School in Nuneaton (Project ID: 21058656), a £21 million contract at Tarleton Academy in Preston (Project ID: 21058066) and a £3 million rebuild of Lytham St Annes High School in Lancashire (Project ID: 21058065).
Work also started in April on a £25 million rebuild of Fred Longworth High School in Tyldesley, Greater Manchester. BAM Construct UK is the main contractor on the project which will run for 25 months and involves over 9,500 sq m of new space and the demolition of an original school building (Project ID: 21058671).
A series of new contract opportunities suggests the schools sector workload should continue to grow. In Coventry, detailed plans have been submitted and work is expected to start this autumn on a £28.45 million project at Coundon Court School. It will involve the demolition of six existing buildings and the construction of three new education buildings covering 11,165 sq m with work set to run over three years. Wates and Coventry City Council are the clients on the scheme (Project ID: 09234263).
Contract opportunities on smaller school projects are also emerging under the government's rebuilding programme. In the East Midlands in Leicester, tenders are currently being invited for a £4.5 million school rebuild at Catherine Infant School where work is due to start towards the end of this year and run for ten months (Project ID: 21058083).
Future pipeline
The future pipeline for smaller school projects beyond this year also looks healthy. Across the country, Glenigan data highlights dozens of rebuild projects at schools selected under the School Rebuilding Programme – typically valued at £5 million – which are at the pre-tender and pre-planning stage and where work is due to start over the next 18 months.
One example is St Paul's Catholic Primary School in Billingham which has been chosen as one of the second set of 50 schools under the programme. Work on the £5 million re-build is pencilled in to start in July next year and run for 12 months (Project ID: 21339607).
Source: Glenigan
https://schoolbuilding.org.uk/wp-content/uploads/2022/05/SB-05.05.22.jpg
320
800
Lyn
https://schoolbuilding.org.uk/wp-content/uploads/2019/06/Screenshot-2019-06-10-at-11.25.53.png
Lyn
2022-05-05 13:11:26
2022-05-05 13:11:26
The Growing Schools Rebuilding Programme